2019 DENIC Domain Statistics
2019 was another year of growth for .de domains. You find detailed graphic, analytical and data information on the precise distribution among the 401 cities and districts of Germany in the statistics section of our website and in our press release on the regional domain statistics 2019.
Regardless where you look, at district towns, large cities or federal states with vast lands, .de domains are everywhere. Take a look at the annual statistics to trace the trends and developments since 1999.
The 2019 statistical average for Germany was 180 .de domains per thousand inhabitants. About one quarter of the cities and districts included in the analysis exceeded the reference value, whereby the number of cities (52) with above-average values was higher than the respective number of districts (43). Measured in absolute numbers, the number of domains increased in the districts while it remained unchanged in the cities. You can download the data for all the 401 districts here.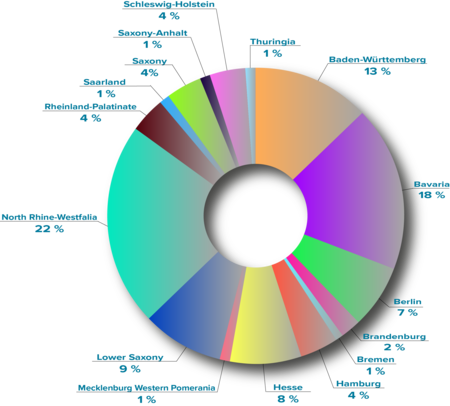 With a plus of 0.2 percent, the overall national growth rate related to the number of domains showed a reversed trend compared to 2018 (-0.9%). Nine federal states scored values equivalent to or above the mean value, with Mecklenburg-Vorpommern (+1.1%) in the lead. Baden-Württemberg, Bavaria, Hesse and Rhineland-Palatinate reported increases of 0.8 percent respectively. Domain growth in 2019 was located primarily in the south on Germany. (The graphic material is available in various formats and resolutions at the DENIC Media Center.)

All in all, Domains under Management increased by 0.7 percent when compared to 2018 on an annual basis. The more than 16.3 million .de domains that were registered at the end of 2019 included more than 1,3 domains of holders residing outside of Germany. The share of these domains increased again and accounted for 8.1 percent of all .de domains at the end of the year. To learn more about the trends of .de domain development and their distribution with regard to domain holders resident all over the world read our comprehensive press release on the 2019 DENIC domain statistics.