Seamless, privacy-friendly Single Sign-On approach to manage multiple logins online.
Launch featuring DENIC ID info booth, ID4me hackathon, keynote and technical bootcamp.
Managing logins and digital identities across multiple sites and applications on the Internet is a discouraging experience for users and site operators alike. A new digital identity management approach to resolve these issues is ID4me, a global, federated Single Sign-On standard based on domain names and solely using existing open standards. ID4me and DENIC ID, a first market-ready implementation based on this standard, will launch to the public at CloudFest 2019. The ID4me initiative, represented by the non-profit organization ID4me AISBL in Brussels, Belgium, was created by leading players of the domain, hosting and open-source software industry, including 1&1 IONOS, DENIC, and OpenXchange.
ID4me offers a seamless, low-threshold technical solution that comes as an open and privacy-friendly alternative to social media logins. Next to satisfying user demands, by enabling them to manage their multiple logins needed for modern-day Internet usage conveniently, via a single central login account, ID4me also meets site operators' authentication requirements and provides them with interoperable SaaS tools for easy integration within their own infrastructure. With that focus, upcoming CloudFest, held from March 23 to 29, 2019 in Rust, Germany, will be the perfect partner and venue to evangelise the open, federated ID4me protocol within the global cloud and hosting industry and beyond.
Market Launch of ID4me-Based DENIC ID Service at CloudFest 2019
German ccTLD manager DENIC (.de), who has significantly contributed to ID4me standard development, will be present at CloudFest at booth R05 to introduce its ID4me-based DENIC ID service. DENIC ID is part of a Single Sign-On digital identity management solution grounded in the principle of distributed responsibilities, where DENIC will assume the role of an ID authority by registering user IDs, authenticating users to access online service providers (login partners), and managing user consent for sharing their personal information with such login partners.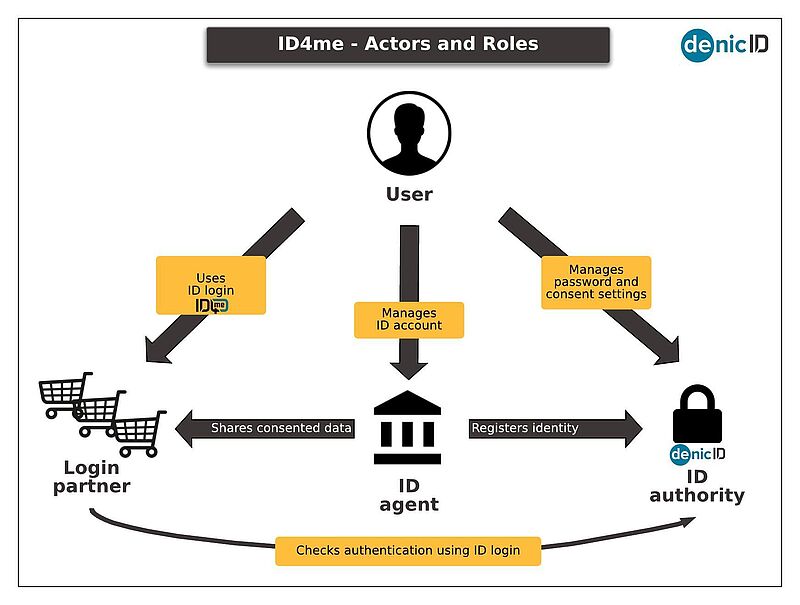 3-in-1: Another Use Case Adding Value to Domain Names
"Our implementation for the role of the Identity Authority - DENIC ID - is not only a vital cornerstone and prerequisite of making the federated ID4me standard a working solution. It also creates a new use case and add-on service for domain names, which is why we are excited to add it to our service portfolio", says DENIC CEO Jörg Schweiger. "The special thing about ID4me as a universal Single Sign-On approach is that it adds to a domain name, which is already a well-known and proven resource for an individual's digital identity on the Internet, quite a strong extra benefit: Until today, you could use your own domain name as a referral to a website or to personalise your e-mail account. From now on, it can also be employed as an authenticating means to access online services. This 3-in-1 solution is technically unique so far and a true novelty in the market."
Explaining the differences between ID4me and other SSO solutions and why ID4me users benefit in multiple ways, DENIC's chief architect Marcos Sanz Grossón who is one of the brains behind ID4me and DENIC ID, says: "An ID4me login provides easy and convenient access to all of a user's online accounts, enabling them to log in via a single defined set of credentials to a multitude of services. Other than with social media logins, each owner of an ID4me account will determine with whom they will share which data and for how long. Consequently, ID4me users will have full control over their personal data at all times. Also, the basic principle of distributed responsibilities, underlying both the OpenID Connect and ID4me standards as well as DENIC ID, makes sure that the overall data necessary for the authentication process is stored at neither of the involved technical players alone, but each of them possesses only those information he needs to know to perform his specific tasks, in accordance with his defined role."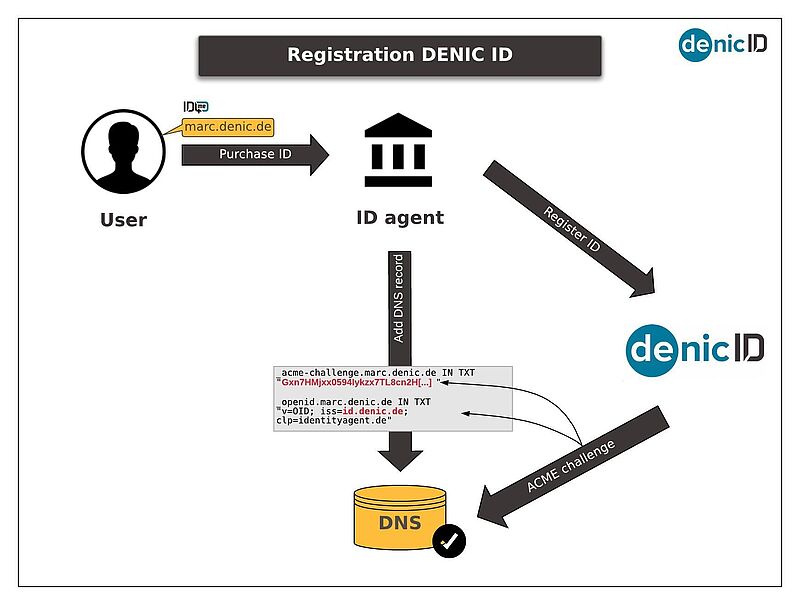 ID4me Community Outreach at CloudFest 2019
In order to facilitate adoption of the ID4me standard into existing IT setups, DENIC has participated in creating a large variety of open code libraries. Building on those existing libraries, the CloudFest Hackathon ID4me Plugin Fiesta during March 23 to 25, 2019, will invite hosting, cloud or SaaS provider developers to take advantage of the open and independent Single Sign-On protocol to create seamless user onboarding and authentication solutions for their service or platform, based on an ID4me login.
ID4me Chairman Andreas Gauger, one of the pioneers in "AaaS" (Application as a Service) and co-founder of the first hosting company in Germany, will reveal a secret and powerful conversion and retention killer that is typically not discussed in marketing and management environments, during his keynote on March 26, 2019, at CloudFest's Ballsaal Berlin venue space.
During the technical bootcamp session "Fixing The Login – Onboard and Retain Customers At Ease!" on March 27, 2019, at CloudFest's Circus Celebration venue space, Alexander Schwertner, Domain Industry Consultant at DENIC, and Pawel Kowalik, Head of Product Owners Domains at 1&1 IONOS, will demonstrate why they think current logins are broken and why ID4me can be the solution to fix it, from the customer experience perspective as well as from the customer authentication and conversion point of view. On this occasion, the ID4me team will also give a live demo of the open protocol and of the latest plugins that were developed during CloudFest Hackathon, on the spot, between March 23 and 25, 2019.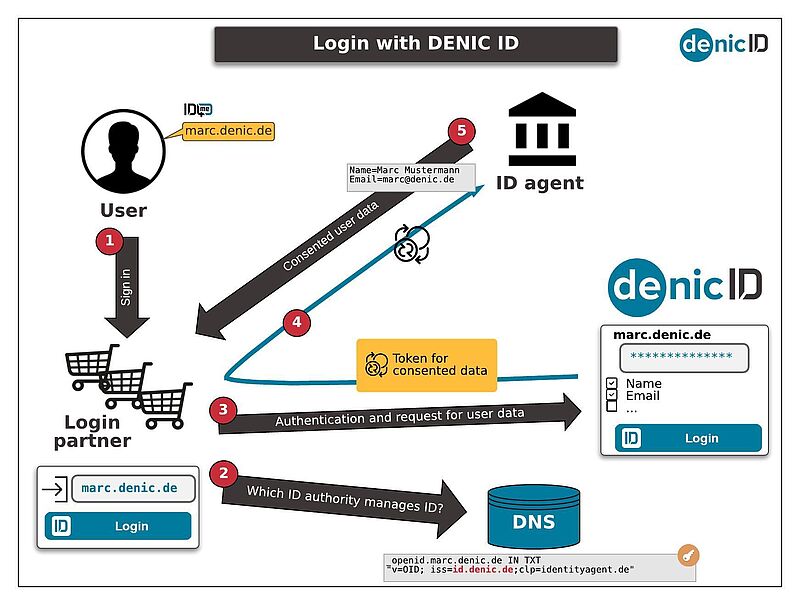 About ID4me
ID4me AISBL is a non-profit organization founded in 2018 in Brussels, Belgium, with the goal to promote a federated approach to Single Sign-On and Digital Identity Management.
ID4me stands for an open Internet providing a globally available, open, federated, secure and privacy-friendly Single Sign-On protocol, which fully adheres to applicable data protection and security standards. The protocol is domain-based, using the Internet's hierarchical naming system DNS as its underlying identifier technology, and combining it with the well-established OpenID Connect and OAuth standards into a unique solution.
The founding members of ID4me are 1&1 IONOS SE, DENIC eG and Open-Xchange AG. Since launching the ID4me prototype in early 2018, further members and supporters have joined the initiative. Industry associations including eco − Association of the Internet Industry, the Domain Name Association, or the Internet Infrastructure Coalition (i2Coalition) are also supporting ID4me.