Press Release | 15.03.2017
DENIC Starts Official Operation as Data Escrow Provider for ICANN-Accredited Registrars
Unprecedented: German Law Integrated into Contract and Full Conformity with Applicable European Data Protection Legislation
The managing organisation of Germany's country code .de on the Internet, DENIC, is extending its business activities to include a back-up storage service for the business data of ICANN-accredited registrars (Registrar Data Escrow). On 15 March 2017, the ultimate formal basis required to this end was established with the Internet Corporation for Assigned Names and Numbers (ICANN), including several unprecedented conditions: Different from any previous agreement, not only the applicable law and place of jurisdiction terms allow for non-US legislation and venues, as far as the relationship between registrar and data escrow provider is concerned. Also for the first time within the ICANN escrow context, full compliance with the applicable European data protection regulations is achieved.
The accreditation by ICANN as Third-Party Provider for Registrar Data Escrow (TPP RDE) had been obtained by DENIC last year already. Now the details of the obligatory tripartite agreement between ICANN, DENIC and registrars as the users of the RDE service could be finalised. The contract stands out from other parties' escrow agreements with ICANN by not being governed exclusively by Californian law but also allowing German law as the applicable legislation for the contractual relationship between a registrar and DENIC as escrow provider – provided ICANN is not affected. Moreover, the registrar and DENIC may define upon contract conclusion if, in case of dispute, they will seek redress in a German court or a Swiss court of arbitration.
During the recent ICANN meeting in Copenhagen, Denmark, the first tripartite agreement was signed by Akram Atallah, President of ICANN's Global Domains Division (GDD), DENIC COO Andreas Musielak and Marcus Fauré, Managing Director of the German registrar Global Village, on 15 March 2017. Global Village – together with another five registrars – had already used DENIC's Escrow Service in the last few months within the scope of a Friends & Family test scenario. The agreement with ICANN now cleared the way for concluding an official contract.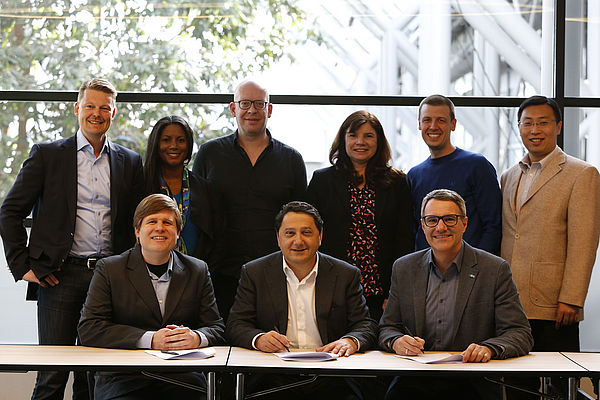 Representatives from ICANN, DENIC and Global Village after signing the first mutual Registrar Data Escrow Agreement
DENIC Escrow: Neutral, Legally Safe, Meeting Highest Technical Standards
DENIC COO Andreas Musielak expressed his satisfaction about the latest development: "Escrow Services is an interesting new business field for us. Providing a back-up service for sensitive data will further enhance our international reputation as a trustworthy partner. Given the legal uncertainty with regard to data transfers to the Unites States, the DENIC Escrow Service is a very attractive option, also and in particular to all registrars based in Europe." Global Village Managing Director Marcus Fauré was pleased as well: "In the current tense political climate, protecting the data of European domain holders has become ever more important. I am relieved that, being a contracting partner of DENIC, I will now be able to store the data of my customers in a legally safe place in Europe, without having to entrust them to an enterprise that is competing with my own company. With DENIC, I now have the ideal partner for the technical implementation by my side."
The DENIC Board is confident that the ongoing contract negotiations with ICANN for approving DENIC to also provide Registry Data Escrow (RyDE) for the New gTLDs will now come to a close soon, too. New gTLD registry operators are also subject to the obligation to use escrow services.
As a neutral, not-for-profit cooperative, DENIC is neither a registrar nor a gTLD (backend) operator, and thus does not compete with the potential customers of its Escrow Service. 20 years of experience in operating one of the largest TLD zones worldwide (.de) with more than 16 million domains make DENIC one of the leading experts in domain management, at an international level. State-of-the art cryptographic algorithms and multiple redundancies safeguard the secure transmission and storage of all domain registration data. Storage will be exclusively in data centers located in Europe (i.e. in Frankfurt and Amsterdam), in compliance with European data protection regulations. DENIC's certifications according to ISO/IEC 27001:2013 ISMS and ISO 22301:2012 BCM standards are another guarantee for maximum information security and availability.
Background Information on Data Escrow
Data Escrow is the act of storing data and information with a neutral third party in order to be held in custody by them. This measure is meant to ensure that business activities can be continued by an independent party in case of failure or insolvency of the registry or registrar, on the basis of the data stored as an external back-up copy. Domain data is also rated to be such type of relevant business data. The Internet Corporation for Assigned Names and Numbers (ICANN) therefore requires all its accredited registrars and registries to regularly deposit a copy of their generic domain (gTLD) registration data with an independent escrow provider. In case a registrar or registry is no longer in the position to provide its services, these data can then be handed over to a designated partner to be defined by ICANN and registrants are enabled to prove their holdership of a domain.
With its new service, DENIC offers gTLD registrars, in particular those domiciled in Europe, a quality solution to meet their escrow obligations under European law by using an escrow provider based within the European Union, which saves them from having to transfer their data to a country outside of the EU.