Press Release | 16.05.2018
DENIC Becomes ICANN-Designated Agent for Registrar Data Escrow Services After Winning Global Tender
Sole RDE Agent to offer a cost-neutral plus GDPR-compliant escrow service
Effective 14 May 2018, German ccTLD manager DENIC eG (.DE) has entered into an agreement with the Internet Corporation for Assigned Names and Numbers (ICANN) as an ICANN- Designated Agent to support Registrar Data Escrow (RDE) services on ICANN's behalf. As a consequence, DENIC is now one of only two neutral third party escrow agents worldwide who are authorized to offer to ICANN-accredited registrars the mandatory regular storage of back-up copies of their gTLD registration data, on a cost-neutral basis.
During the ongoing ICANN Global Domains Division (GDD) Meeting in Vancouver, Canada, the pertinent three-year Master Registrar Data Escrow Service Agreement was signed by ICANN President Global Domains Division, Akram Atallah, and DENIC COO Andreas Musielak on 14 May 2018.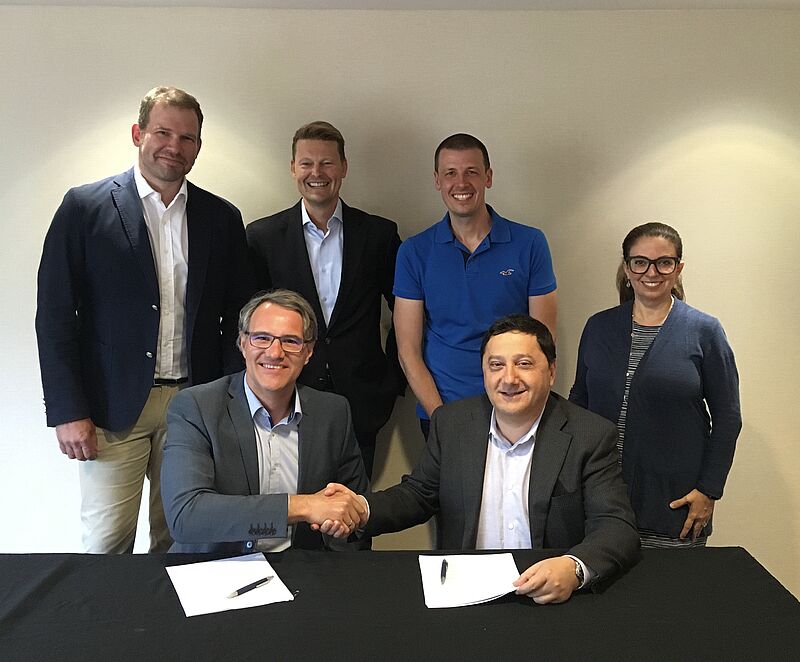 Representatives from ICANN and DENIC after signing the Master Registrar Data Escrow Service Agreement
New Milestone Of DENIC Escrow Program Achieved
Thus DENIC, having been an ICANN-Approved Registrar Data Escrow Agent (TPP RDE) since June 2016 already, went even a step further by being selected successful bidder now, in a competitive global Request for Proposal, which was initiated by ICANN in August 2017 to further expand its RDE program.
Through this move ICANN, in partnership with DENIC, puts its accredited registrars in a position to draw on a designated escrow service which is in compliance with the European General Data Protection Regulation (EU GDPR).
Happy about the further expansion of DENIC's escrow services line, in addition to its previous accreditations as TPP RDE and New gTLD Escrow Agent for Registries, COO Andreas Musielak says: "With a 20-year track record in operating one of the largest TLD zones worldwide, .DE, with more than 16 million domain names, DENIC is a leading expert in domain management, at an international level. As Designated Escrow Agent, DENIC is capable to offer a quality solution to ICANN-accredited registrars, in particular to those having their place of business and/or serving customers in Europe, which is both cost-neutral and allows them to meet their contractual escrow obligations under European law. Apart from that, our service is also ideally suited for all further international registrars who wish to benefit from our high level of security, together with a strong customer focus."
DENIC Escrow Services: Neutral, Legally Compliant, Meeting Highest Technical Standards
Among the benefits of DENIC's escrow service are, next to its full GDPR compliance, the scalability and excellent security standard of the implemented solution, fulfilling highest industry requirements, as well as its customer friendliness and the easy onboarding of new clients.
DENIC's Chief Information Security Officer Boban Kršić, who has been in charge all through the Designated Escrow Agent bid process within DENIC since ICANN's RFP launch in the summer of 2017, says: "ICANN's high-level security demands are met by our state-of-the-art cryptographic algorithms and multiple redundancies that safeguard the secure transmission and storage of all domain registration data involved. Data processing and storage will exclusively take place in certified data centers in Europe, which are sited in Frankfurt am Main, Germany, and Amsterdam, The Netherlands."
Registrars Ready To Switch Welcome
While drafting the Designated Escrow Agent master agreement, in cooperation with ICANN, DENIC has already defined such transition procedures that will enable interested registrars to switch to DENIC in the easiest and most efficient way.
Hence in time with the EU GDPR effective date, on 25 May 2018, using DENIC's escrow service will become cost-neutral for ICANN-accredited registrars.
Contact DENIC Escrow Support Team: escrow[at]denic.de