DENIC Data Escrow Services
With more than 25 years of experience as the operator of one of the largest TLD zones worldwide (.de), DENIC is thoroughly familiar with running a reliable technical infrastructure for backing up domain registration data. Being responsible for more than 17 million domain registration data sets under .de, we are a global leader in domain management services.
The data escrow service is based on the technical infrastructure and expertise of DENIC. Next to highest technical standards, our infrastructure offers the following assets for data escrow services:
Multi-redundant secure storage of all related registration data
Full compliance with European data protection regulations
All storage sites exclusively European-based
ISO/IEC 27001:2013 certified information security management
ISO 22301:2012 certified business continuity management.
Prize for Excellence: DENIC Wins eco Award 2018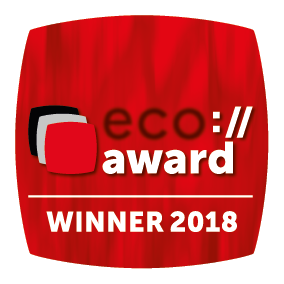 DENIC's Data Escrow Service was granted the eco Award 2018 in the "Domains" category by the Association of the Internet Industry eco e.V. With the prize, the jury composed of scientists, industry experts and trade journalists honoured the service as an unprecedented unique backup option for domain data in Europe.
The Perfect Combination: Technical Experience and First-Class Customer Service
DENIC's high-performance infrastructure is complemented by customer-oriented sales and marketing and tailored customer service. These services are globally provided by DENIC's wholly-owned subsidiary DENIC Services GmbH & Co. KG for
Top Level Domain (backend) registry operators, and
Domain name registrars.
DENIC Services GmbH & Co. KG is accredited by ICANN both as Designated Escrow Agent for Registrar Data Escrow (DEA) and as New gTLD Data Escrow Agent for Registry Data Escrow (RyDE).
DENIC Services GmbH & Co. KG Heinrich-Hertz-Straße 6
64295 Darmstadt
GERMANY
Service Hours
Mon - Fri 8:00 - 18:00 CE(S)T
Information on Data Escrow Services for Registries (Registry Data Escrow)
As a registry operator of a generic Top Level Domain you are required by ICANN to create a daily backup of the domain name registration data you are managing and to transfer it to a reputable escrow agent. Registry data escrow ensures that a copy of the gTLD registration information stored by a registry operator is safely held in escrow by an independent third party. This escrow service guarantees that domain owners and end users will still be able to access the data even if a backend registry operator should no longer be able to provide its services. For detailed information please refer to Specification 2 "Data Escrow Requirements" of the (ICANN Registry Agreement).
In addition to that, the escrow service by DENIC is also used by ccTLD operators. Even though they have no obligation to escrow their data, they turn to the DENIC service. Their aim is to minimise a potential default risk. If their data are escrowed by DENIC they can be retrieved at any time.